Description
CherryBeet Cherry & Beetroot Extract
The Strength of Beetroot and Montmorency Cherry Combined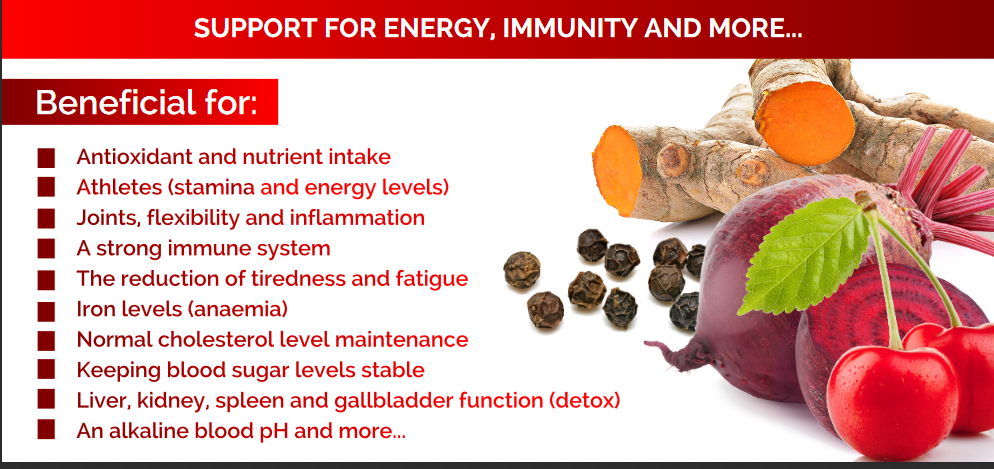 CherryBeet combines beetroot powder and extract (10:1), with Montmorency (sour) cherry powder and extract (10:1), to provide a concentrated formula – 4500mg per capsule.
These superfoods are then compiemented by the addition of three nutritive allies in the same formula – vitamin B6, black pepper powder and turmeric extract (95% curcumin) – to provide additional support for the reduction of tiredness and fatigue, energy-yielding metabolism, immunity, red blood cell formation, the nervous system, hormonal activity, protein and glycogen metabolism and more.
This food supplement is high in bioavailable antioxidants (including anthocyanins) and contains non-irritating iron, while the black pepper increases the absorption and utilisation of the beneficial ingredients in the formula.
Combination cherry and beetroot capsules are particularly popular with athletes, because of the high levels of dietary nitrate present in beetroot, the anti-inflammatory agents present in Montmorency cherry and the high levels of antioxidants present in both. Allied with vitamin B6, black pepper powder and turmeric extract, this supplement offers those who place high demands on their body a winning combination for high energy levels, stamina, immunity and general well-being.
#Approved EFSA health claim:
Vitamin B6 contributes to the normal function of the immune system, the regulation of hormonal activity, normal cysteine synthesis, normal energy-yielding metabolism, normal homocysteine metabolism, normal protein and glycogen metabolism and the reduction of tiredness and fatigue
Beneficial For
Heart health
Lowering cholesterol
Immunity
Stamina
Stabilising blood sugars
Ingredients
60 capsules per pot 
Each capsules provides:                  %NRV*
Vitamin B6 – 2mg                                   142%
*NRV = Nutrient Reference Value
Also provides:
Beetroot extract 10:1 (equivalent to 2250mg beetroot powder) – 225mg
Montmorency cherry extract 10:1 (equivalent to 2250mg cherry powder) – 225mg
Black pepper powder – 5mg
Turmeric (Curcuma Longa) extract 10:1 (95% curcumin) (equivalent to 50mg turmeric powder of which 4.75mg curcuminoids) – 5mg
Contains no added: artificial colours, flavourings, preservatives, dairy products, gluten, lactose, soya, sugar, wheat or yeast.
Key Benefits of beetroot
n an ideal world, people would be able to enjoy all the benefits of beetroot by eating (or drinking the freshly-squeezed juice of) the fresh form of this nutritious root vegetable. However, for the vast majority of people this is simply not possible, particularly in the required quantities. Even juices available from the supermarket are not  ideal, due to the pasteurisation process, which destroys many of the essential enzymes.
CherryBeet take the hassle out of health by providing easy access to this superfood in a potent, convenient and easy-to-take capsule form. Everyone can benefit from taking this remarkable food-based supplement, particularly endurance athletes and those with cardiovascular, respiratory or metabolic disorders.
Antioxidants and nutrients
Beetroot is a rich source of potent antioxidants (such as betanin, the pigment that gives beetroot its deep colour) and other essential nutrients, including magnesium, manganese, sodium, potassium, phosphorus, soluble fibre, calcium, iron, vitamins A, B and C, folic acid and betaine.
Heart health, blood pressure and cholesterol levels
Beetroot's carotenoids and flavonoids can help to reduce the oxidation of LDL cholesterol, which could lead to damaged artery walls and ultimately heart attacks and  strokes. In particular beet fibre has been shown to have cholesterol-lowering capabilities. Similarly, betaine, a nutrient found in beetroot, lowers plasma homocysteine, a  possible risk factor for cardiovascular disease. Beetroot has also been shown to lower blood pressure and thereby help to prevent cardiovascular problems. This is likely to  be because the high content of dietary nitrate in beetroot produces a gas called nitric oxide in the blood, which widens blood vessels and lowers blood pressure.
Stamina
While beetroot is certainly notable for its high nutrient content, it is its capacity to absorb and store exceptionally high levels of dietary nitrate that earns it the "super-root"  title. Studies have demonstrated the positive effects that beetroot can have on exercise performance and muscle growth, as a result of this nutrient. For example, in a  recent study conducted by Exeter University, scientists found that cyclists who drank a half-litre of beetroot juice several hours before setting off, were able to ride up to  16% longer than those who drank a placebo blackcurrant juice. As a result, beetroot is now actively used by many athletes as a dietary supplement, during times of extreme training when demands for energy and fast recovery are high.
Liver function (detoxification)
Several studies have shown that betaine (a nutrient found in high levels in beetroot) supports healthy liver function, particularly where there is a build-up of fatty deposits in the liver caused by alcohol abuse, protein deficiency or diabetes, among other causes. When the liver is functioning properly, fats are broken down efficiently, promoting natural weight loss, preventing fatigue and supporting body detoxification. Beetroot is also naturally rich in alkaline elements, making it a great addition to any cleanse and detox programme.
Key benefits of Montmerency Cherry
Montmorency cherry (or sour cherry) is a nutrient-rich fruit, which contains a wide range of beneficial natural compounds, in levels not often found in other fruits. As such, it  has a number of health-promoting properties and is widely considered to be a superfruit.
Antioxidants and nutrients
Montmorency cherries are extraordinarily rich in antioxidants, which fight free radicals in the body and can therefore help to prevent disease and slow the ageing process.
Research shows that Montmorency cherries have very high ORAC (oxygen radical absorption capacity) values – you would have to eat more than 20 average portions of
other fruit and vegetables to get the same amount of antioxidants as you get in one portion of Montmorency cherries. In particular, they are one of the few natural food sources of: the potent antioxidant melatonin, which helps to maintain the body's circadian rhythms and improve sleep cycles; and the class of compounds, Superoxide Dismutases,  which act as "super scavengers" of harmful free radicals, destroying them throughout the body.
Anti-inflammatory agents
Montmorency cherries also contain potent phytonutrients, including anthocyanins (natural pigments) and other phenolic and flavanoid compounds. Anthocyanins have  powerful anti-inflammatory properties, which may help to maintain healthy joint function, mobility and flexibility, reduce inflammation and ease the pain of arthritis. They are also thought to lower urate levels in the body and are therefore often used as a remedy for gout.