Description
Ashwagandha Botanical Complex is a synergistic combination of herbs, roots, reishi mushroom and vitamins, formulated to combat stress and adrenal fatigue, while also supporting the immune system, energy levels, mental performance and a general sense of calm, focus and vitality.
The adrenal glands produce hormones that underpin the body's mechanisms for coping with physical and mental stress. Overtraining in athletes, chronic anxiety, worry, nervous tension and other factors associated with excessive cortisol release are linked to adrenal exhaustion and fatigue. Over-reliance on caffeine and other stimulants also taxes the adrenals.
With potent adaptogens, this food supplement helps to balance hormones, allowing users to better manage their stress response on a day to day basis. These clever herbs help the body adapt to what it needs and regulate the system up or down, as required in the moment.
The nature of adaptogenic herbs is to help a person "adapt" to their environment, as well as to normalise and regulate the body's functioning.
It combines important nutrients and nutraceuticals that support hormonal and adrenal health. Pantothenic acid, for example, is involved in the synthesis and release of adrenal hormones.
Panax Ginseng also has an extensive history of use for the promotion of alertness and vitality, as well as counteracting fatigue, while Rhodiola is another powerful and fast-acting adaptogenic herb. It has been used traditionally to contribute to normal blood circulation, which in turn is associated with cognitive performance and reactivity.
Ashwagandha Botanical Complex works best when combined with adequate rest and sound nutrition, and offers excellent support for those who wish to put their body back in balance, restore immunity and reinvigorate their energy levels to combat life's daily physical and mental stresses.
Ashwagandha Complex Ingredients
Ashwagandha root: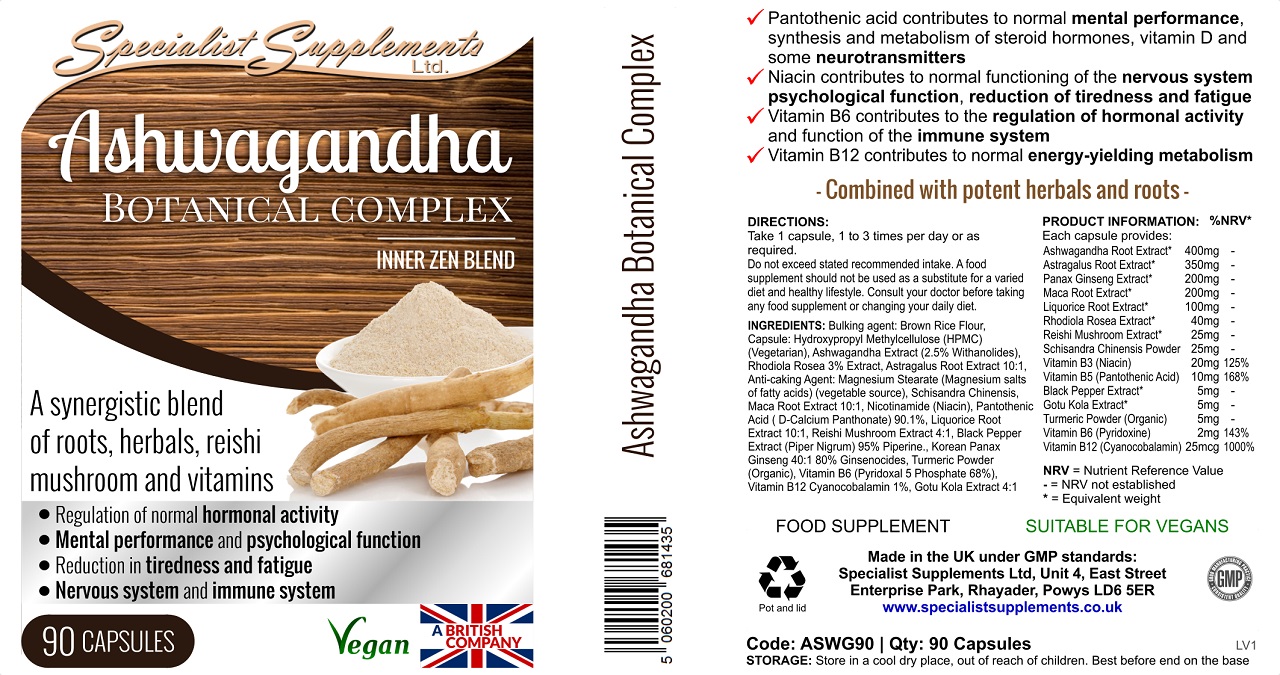 Ashwagandha, one of the most powerful herbs in Ayurvedic healing, has been used since ancienttimes for a wide variety of conditions, and is most well-known for its restorative benefits. In Sanskrit, ashwagandha means"the smell of a horse," indicating that the herb imparts the vigour and strength of a stallion, and has traditionally been prescribed to help people strengthen their immune system after an illness.
Ashwagandha is frequently referred to as "Indian ginseng" because of its rejuvenating properties, even though botanically, ginseng and Ashwagandha are unrelated. Traditionally, it has been prescribed as a nerve tonic and adaptogen – an agent which helps the body adapt to various emotional and physical stressors.
It is a highly effective remedy to help reduce stress and anxiety, by lowering cortisol levels and mimicking the inhibitory neurotransmitter GABA.It has classically been used in India for nearly 5,000 years for conditions such as failure to thrive in children, weakness and debility in old age, rheumatism, constipation, insomnia, nervous conditions, stress, goiter, joint inflammation, parasites, hormone balance and more.
A paste is also often made from ashwagandha root powder and applied topically to treat boils, ulcers, and other skin irritations and infections.
Belonging to the same nightshade family as the tomato, ashwagandha is a plump shrub with oval leaves and yellow flowers. It bears red fruit about the size of a raisin.
This adaptogenic herb is native to the dry regions of India, northern Africa, and the Middle East, and today is also grown in more mild climates, including the United States.
Astragalus root:
Astragalus belongs to a special class of herbs known as adaptogens, which have unique effects that work to bring the body and mind into greater balance, depending on what is needed, thereby helping to reduce stress and promote energy and vitality.
For over 2,000 years, it has been one of the 50 elite Chinese tonic herbs that are most frequently used in the Traditional Chinese Medicine pharmacopeia, due to its remarkable ability to restore health on virtually every level – mentally, emotionally, physically, energetically and spiritually.
It is one of the few herbs mentioned in multiple ancient Chinese medical texts as a "Heaven Class" premier herbal medicine for restoring health and rejuvenating the body and mind at the deepest levels.
Widely referred to as "the ancient herb of longevity and strength", a number of studies have shown that certain compounds in Astragalus root have measurable telomerase-stimulating and enhancing effects, which have been linked to increased longevity, anti-aging and DNA repair.
Astragalus has also become notable over the years for its powerful immune-boosting properties – studies have shown that regular use of Astragalus root leads to an increase in disease-fighting immune antibodies, stimulation of T-cells (which are powerful immune-regulating white blood cells) and an increase in levels of the anti-viral compound interferon. Panax ginseng:Panax ginseng is the botanical cousin of Siberian ginseng.
It is a rich source of phyto-oestrogen and the biologically active ingredients are called eleutherosides, supporting the recuperative power of the body. As such, it is traditionally used for supporting overall health and well-being, to strengthen the immune system and to help fight off stress and disease.
Maca root:
The maca plant belongs to the brassica (mustard) family and, like broccoli and cauliflower, is a cruciferous vegetable. It grows in the mineral-rich mountains of the Andes at an elevation of about 12,000 to 14,000 feet.
It is found in Peruvian provinces such as Junín and Pasco, where it thrives in extreme weather conditions that include powerful winds, bitter cold and harsh sunlight. Maca is a tuber, which means that under the ground, the plant stores its rich nutrients in a bulb shaped like a radish or turnip. It is rich in vitamins C and A, as well as B2, B6 and niacin.
The hardy root is also packed with minerals, including iron, zinc, iodine, calcium, copper, magnesium and potassium. Maca is also rich in beneficial plant sterols that are biochemically related to hormones such as oestrogen, testosterone and progesterone. And it contains healthy fatty acids, which are beneficial for the heart and help stabilise blood glucose levels and reduce inflammation.
As well as being noted for its benefits for colonic health and energy levels, maca root (in particular) is one of the rare plants that can be classified as an 'herbal adaptogen'. This means it can directly change the balance of your hormones to help you adapt to stress and illness.
Your endocrine (hormone) system is in the front line when it comes to handling the effects of stress on your body. If you're under chronic stress or suffer from anxiety, the adaptogenic effects of maca can help to reduce some of that load.