Description
Joint Care Supplement – Happy Flex
F
ormulated to provide a tailored combination of glucosamine HCL, methylsulphonylmethane (MSM), vitamin C
Other ingredients, include: turmeric extract (95% curcumin), nettle leaf, Montmorency cherry, Panax ginseng, apple cider vinegar powder, bromelain, horsetail herb, kelp, papain, rosehip and ginger root – all in one formula.
Only the highest grade glucosamine HCL is used in the formula – the HCL form of glucosamine is the most bioavailable (easily absorbed and utilised).
This combination food supplement offers specific support for collagen formation, as well as the normal function of cartilage and bones. Collagen is a structural protein found in several connective tissues in the body including bones, cartilage, gums, skin, tendons and blood vessels.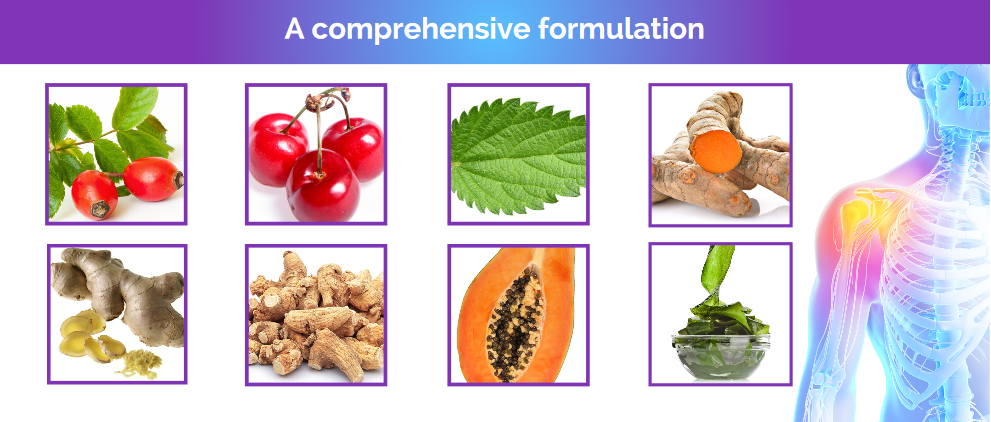 # Approved EFSA health claims:
Vitamin C is a co-factor for collagen synthesis. It contributes to normal collagen formation for the normal function of blood vessels, bones, cartilage, gums, skin and teeth. It also contributes to maintaining the normal function of the immune system, as well as normal energy-yielding metabolism, normal functioning of the nervous system, normal psychological function, protection of cells from oxidative stress, the reduction of tiredness and fatigue, the regeneration of the reduced form of vitamin E and increases iron absorption. Click here and here for EFSA scientific opinions.
Ingredients
Per capsule:                                                %NRV*
Vitamin C (Ascorbic acid) – 12mg                              15%  
*NRV = Nutrient Reference Value                    
Also provides:
Glucosamine HCL (from shellfish) – 300mg
MSM – 200mg
Turmeric (providing 50mg curcumin) – 52mg
Nettle leaf 4:1 extract (equivalent to 100mg powder) – 25mg
Montmorency cherry powder – 20mg
Panax ginseng 10:1 extract (equivalent to 100mg powder) – 10mg
Apple cider vinegar powder – 5mg
Bromelain (1,200 GDU/g) – 5mg
Horsetail 10:1 extract, 7% silica – 5mg
Kelp (Ascophyllum nodosum) powder – 5mg
Papain (2000u/mg) – 5mg
Rosehip 20:1 extract (equivalent to 100mg powder) – 5mg
Ginger root 20:1 extract (equivalent to 40mg powder) – 2mg
Contains no added: sugar, salt, wheat, dairy, preservatives, colours or flavours.
About The Ingredients
Glucosamine HCL:
Glucosamine is an essential part of the building material for joints and the cellular 'glue' that holds the entire body together. Joint cartilage contains the highest concentration of glucosamine. Many researchers now feel that glucosamine hydrochloride may be the best form, because it has a slightly higher concentration in the molecule (83% versus 80% for glucosamine sulfate) and has better stability. The glucosamine HCL present in the Happy-Flex Combination joint support formula is also in  bioavailable food form, for maximum absorption and utilisation by the body.
MSM:
MSM stands for methyl sulfonyl methane, which is a source of the essential mineral sulphur. Sulphur is involved in a multitude of key functions in the body, including pain  control, regulation of inflammation, detoxification and tissue building. In many cases, joint pain is due to pressure changes in cells, which in turn affects the nerves that sense pain. If cells inflate as a result of excess build-up of fluid or a drop in the pressure surrounding them, the nerves register pain. MSM may support cell-membrane fluidity.
Rosehip and Montmorency cherry:
Montmorency cherries (also known as "sour cherries" or "tart cherries"), are considered to be a superfruit because they are packed with nutrients, including potent  antioxidants and flavonoids. They have been used as a herbal remedy for centuries. For instance, the cherry (either as bark, root or fruit) has been used by Native Americans as natural pain relievers. Similarly, rosehip is a fruit that is naturally high in the potent antioxidant, vitamin C. Antioxidant nutrients support lower levels of inflammation in the body.
Nettle leaf:
Nettles are naturally high in chlorophyll (a powerful phyto-chemical), vitamin C (a potent antioxidant), serotonin, histamine, acetyl-choline and beneficial minerals including iron, calcium and silica.
Ginger and turmeric:
Both turmeric and ginger are herbs that act to naturally support lower levels of leukotrienes that cause pain and inflammation in the body. The bright yellow pigment of the  spice turmeric also contains the active compound curcumin, while ginger is rich in antioxidants.
Panax ginseng:
Panax ginseng is the botanical cousin of Siberian ginseng. It is a rich source of phyto-oestrogen and the biologically active ingredients are called eleutherosides,  supporting the recuperative power of the body.
Apple cider vinegar:
Experts suggest that joint pain and arthritis may be linked to toxins accumulating in the joints, since metabolic waste is often stored in connective tissues. At the same time,  people with joint pain tend to avoid physical activity, which may result in an even higher toxic load. The pectin in apple cider vinegar may help to absorb toxins and move  them out of the system, while the acids may support detoxification of the body.
Bromelain:
Bromelain is an enzyme derived from pineapple juice. It supports lower levels of inflammation in the body, by stimulating the production of plasmin (a compound in the body  that breaks down fibrinogen – a substance involved in localised swelling). What's more, it does so without triggering the gastrointestinal distress so often associated with  nonsteroidal anti-inflammatory drugs (NSAIDs).
Bromelain is also growing in popularity among athletes who suffer frequent wear-and-tear injuries.
Horsetail:
This common herb supports calcium absorption and utilisation and is rich in silica and mineral salts (including potassium, manganese, magnesium, sulphur and calcium) in  support of bones and connective tissues. A deficiency in silica tends to precede the calcium loss that causes demineralisation of bones.