Ashwagandha botanical Complex
Health Benefits of Ashwagandha
About Ashwagandha Botanical Complex
Ashwagandha is a traditional medicinal herb with multiple health benefits. It can reduce anxiety and stress, help fight depression, boost fertility and testosterone in men and may even boost brain function. Supplementing with ashwagandha may be an easy and effective way to improve your health and quality of life
.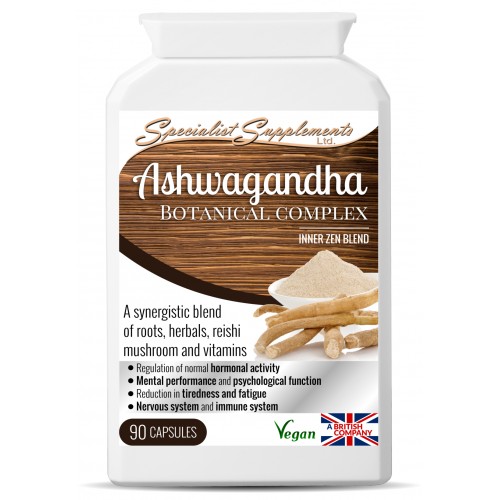 Ashwagandha is primarily used as an adaptogen, meaning it helps your body handle stress and anxiety.  One study tested its benefits on sperm quality in infertile men, who received 5 grams per day over a three-month period.
The men in this study had a 10-22% increase in testosterone levels. In addition, the partners of 14% of participants became pregnant.
Another study suggests ashwagandha increases exercise performance, strength and fat loss, while also boosting testosterone levels significantly.  At present, it seems likely that ashwagandha could help increase testosterone levels in stressed individuals, possibly by reducing the stress hormone cortisol.
1 capsule to be taken 1 – 3 times per day, or as required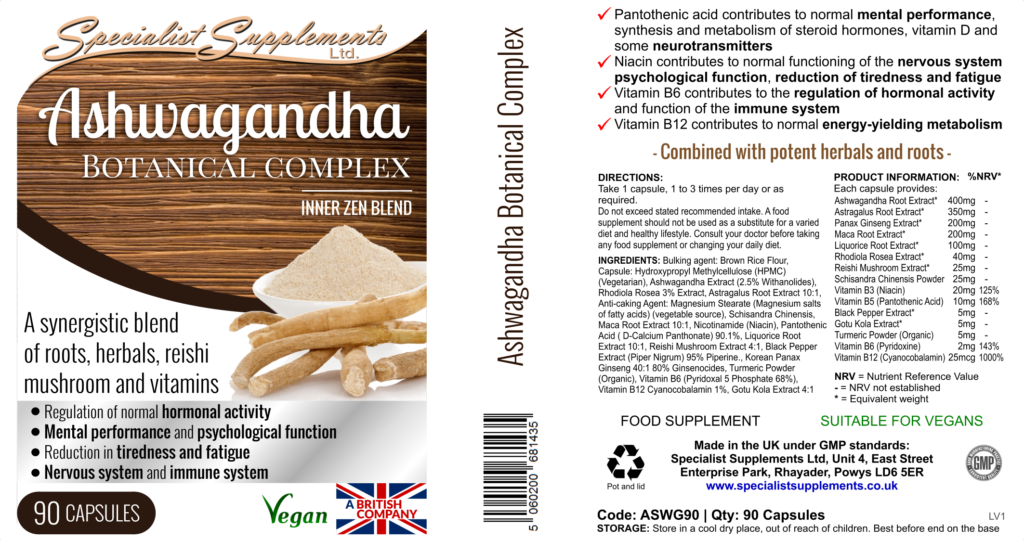 More About Health Benefits of Ashwagandha
Ashwagandha Botanical Complex is a synergistic combination of herbs, roots, reishi mushroom and vitamins, formulated to combat stress and adrenal fatigue, while also supporting the immune system, energy levels, mental performance and a general sense of calm, focus and vitality.
The adrenal glands produce hormones that underpin the body's mechanisms for coping with physical and mental stress. Overtraining in athletes, chronic anxiety, worry, nervous tension and other factors associated with excessive cortisol release are linked to adrenal exhaustion and fatigue. Over-reliance on caffeine and other stimulants also taxes the adrenals.
With potent adaptogens, this food supplement helps to balance hormones, allowing users to better manage their stress response on a day to day basis. These clever herbs help the body adapt to what it needs and regulate the system up or down, as required in the moment. The nature of adaptogenic herbs is to help a person "adapt" to their environment, as well as to normalise and regulate the body's functioning.
It combines important nutrients and nutraceuticals that support hormonal and adrenal health. Pantothenic acid, for example, is involved in the synthesis and release of adrenal hormones.
Panax Ginseng also has an extensive history of use for the promotion of alertness and vitality, as well as counteracting fatigue, while Rhodiola is another powerful and fast-acting adaptogenic herb. It has been used traditionally to contribute to normal blood circulation, which in turn is associated with cognitive performance and reactivity.
Ashwagandha Botanical Complex works best when combined with adequate rest and sound nutrition, and offers excellent support for those who wish to put their body back in balance, restore immunity and reinvigorate their energy levels to combat life's daily physical and mental stresses.
Ashwagandha is perhaps best known for its ability to reduce stress.
Researchers reported that it blocked the stress pathway in the brains of rats by regulating chemical signaling in the nervous system.
Several controlled human studies have shown that it can effectively reduce symptoms in people with stress and anxiety disorders as well.
In a 60-day study in 64 people with chronic stress, those in the supplemental group reported a 69% average reduction in anxiety and insomnia, compared to 11% in the placebo group.
In another six-week study, 88% of people who took ashwagandha reported a reduction in anxiety, compared to 50% of those who took a placebo
Ashwagandha supplements may have powerful effects on testosterone levels and reproductive health .
In one study in 75 infertile men, the group treated with ashwagandha showed increased sperm count and motility.
What's more, the treatment led to a significant increase in testosterone levels.
The researchers also reported that the group who took the herb had increased antioxidant levels in their blood.
In another study, men who received ashwagandha for stress experienced higher antioxidant levels and better sperm quality.
As Ashwagandha is an Adaptogen, it will take some time to begin to take effect in the body and reverse damage caused by long-term stress and high Cortisol levels. Combined with sensible dieting and training, consistently supplementing with Ashwagandha will take apprximately 2 weeks to take effect.
Select Your Purchase Option
Single Pack
100 Vegan Friendly Tablets

1 Month's Supply

Letter Box Friendly Pot